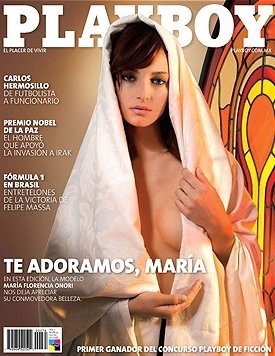 Here at The American Virgin, we've written a lot about
virgin-themed porn
, but this is something new, even for us.
Seems much of Mexico is up in arms about the cover of their local Playboy because the model was dressed to resemble the Virgin Mary. This is especially upsetting to them because it came out right before the Day of the Virgin of Guadalupe.
So, the porn stuff between the covers – the naked-or-what-have-you women in various degrees of display and degradation is fine. But dress one of them up in her aunt's Sunday tablecloth and put her in front of a vulva-like stained-glass panel and it's offensive? Personally, I think it's a clever shout-out to the Madonna/whore dichotomy, which I believe was invented and promoted by the very same Catholic Church protesting this.
The Christian Post ran a dull article, but scroll down for some fantastic comments screeching to and fro, including this paraphrased Bible quote:

"Don't be concerned about the outward beauty of fancy hairstyles, expensive jewelry, or beautiful clothes. You should clothe yourselves instead with the beauty that comes from within, the unfading beauty of a gentle and quiet spirit, which is so precious to God. This is how the holy women of old made themselves beautiful. They trusted God and accepted the authority of their husbands."
Amen. Blander report via the Huffington Post:
Playboy magazine apologized for a controversial cover featuring a scantily-clad woman resembling the Virgin Mary, Reuters reported.

The December edition was published Thursday, just before the Mexican festival honoring Mary known as the Day of the Virgin of Guadalupe.

Playboy Enterprises Inc., based in Chicago, released a statement Friday explaining that the company did not approve the cover because the Mexican version of the magazine is published by a licensee, according to Reuters.

"While Playboy Mexico never meant for the cover or images to offend anyone, we recognize that it has created offense, and we as well as Playboy Mexico offer our sincerest apologies," the company said.
By the way, I'm personally offended by the lack of attention to detail. Shouldn't her shawl be blue? And maybe also ironed?