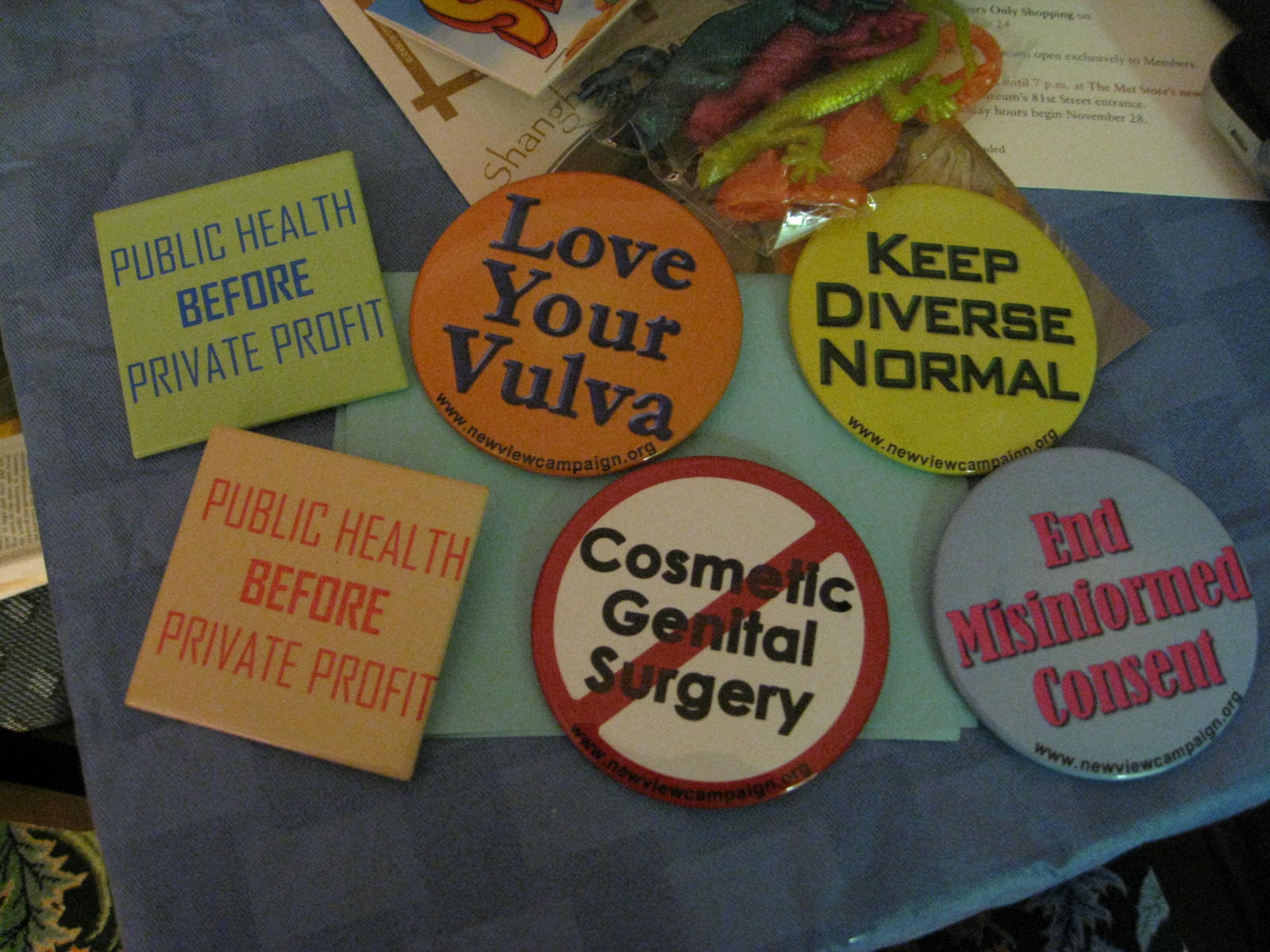 Time Online reports on a recent organized protest against cosmetic vaginal surgery in New York City. Not sure about the giant vulva costumes, but I really love the ideas behind the protest. Their target, The Manhattan Center for Vaginal Surgery, does some hymenoplasty as well, although they say they get relatively few requests for it.
The soaring popularity of these procedures has a lot to do with the promotion of unrealistic beauty ideals for women, in this case from our old friend porn. Doctors say one of the most common reasons women get vaginal surgery is an unhappy partner who wants something that looks more like the gals in his downloads.
Excerpt below is from the Time story:

Appalled at the popularity of so-called designer vaginas, a grass-roots organization called the New View Campaign staged its first-ever protest on Monday outside New York City's Manhattan Center for Vaginal Surgery.

Two dozen women — ranging in age from teenagers to, ahem, sexagenarians — handed out index cards and held up orange poster boards with the message "No Two Alike," while two members of the group donned giant cloth vulva costumes.

New View, which was created in 2000 in response to the introduction of Viagra, is trying to fight what it calls "the medicalization of sex," the idea that there is a physical right and wrong when it comes to all things sexual.

Says the group's leader Leonore Tiefer, a sexologist and psychologist at New York University: "Promoting a very narrow definition of what women's genitals ought to look like — even for those women who don't want surgery, it harms them."
And this from Real Beauty News:

In 2007 The American College of Obstetricians and Gynecologists (ACOG) issued a press release to warn that vaginal cosmetic surgery procedures "are not medically indicated, nor is there documentation of their safety and effectiveness." ACOG called it deceptive for doctors to give the impression that the vaginal rejuvenation procedures are accepted and routine surgical practices. Potential complications include "infection, altered sensation, dyspareunia (pain), adhesions, and scarring."