Our favorite virgin godmother (and "How to Lose Your Virginity" onscreen expert) Hanne Blank did a talk called "Hymen Wars." Need we say more?
~~~~
The New York Times has a profile of author Lauren Myracle, who they call 'this generation's Judy Blume.' in part for the healthy candor of her books about teen life, and also because of the calls to have her books banned. We think her take on being honest with young people is great:
Her aim, she said, is to write about sex without a "soft fade" — as in cutting from "he leaned in for a kiss" to "they lay in bed, naked, smiling." She wants to fill in the blanks, because kids are curious about the mechanics, and deciding when first to have sex has inherent drama.
A commenter added this thought:
I have read ttyl, ttfn, and l8r g8r - these books came out when I was a teenager and I think it's safe to say I haven't turned into a sex-crazed, technology-obsessed drug addict[...] To ban them is to prevent another avenue for young women, like the one I was, to learn how to respect themselves.
~~~~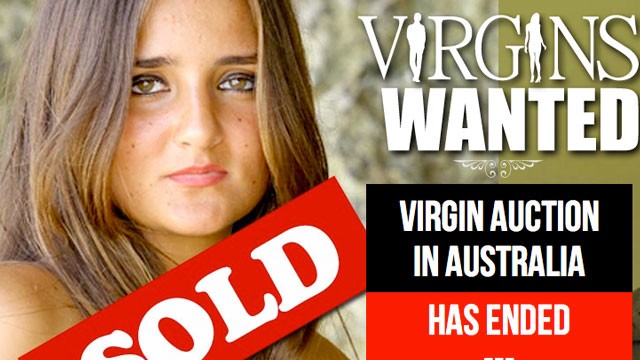 While Caterina Migliorini's yet-unconsumated virginity auction saga continues, she will be featured in Brazilian Playboy (NSFW). Virginity Auctions are a real-life marketplace extension of the virginity porn fetish, so no surprise that A leads to B.
Inspired by Migliorini, another Brazilian woman Rebecca Bernardo, 18, is auctioning her virginity to raise money to care for her bedridden mother (top bid currently $35,000). Press coverage is as gross and voyeuristic as expected.
~~~~
Why not try OK Cupid's "Dating Persona Test"? It is likely a load of bullshit, but OKC does some interesting data analysis and who can resist unscientific pronouncements on your personality? I'm curious what the results are for folks who aren't sexually active, since so much of it has to do with having the sex. You don't have to register to get your results. Let us know in the comments below.
~~~~
Jezebel ran yet another virgin-themed post the other day, a sort of First-Person-like essay called "How to Be a Virgin." We like her suggestion of printing out business cards explaining why she hasn't had sex so she doesn't have to actually discuss it any more. And we kind of feel like stealing the headline for the new title of our film.