Here's a very quick roundup of news on virginity and sexuality:
While spending a weekend at the Kinsey Institute getting all fan-girl over everything, I had the great fortune of going through lots of archival material, especially the shitstorm caused by the groundbreaking Sexual Behavior in the Human Female. It's been 60 years since details of Dr. Alfred Kinsey's landmark book caused all hell to break loose. Women masturbated? Women had affairs? Women liked...sex?
In the words of Reverend Billy Graham: "[Dr Kinsey] certainly could not have interviewed any of the millions of born-again Christian women in this country who put the highest price on virtue, decency and modesty." Happily, many clergy said "Kinsey's work would benefit humanity because knowledge of our sexual natures could only improve people's lives."
Learn more and check out some seriously awesome images here.
~~~
An Indonesian educator has suggested using his city budget to institute annual virginity tests for female students 16 to 19, describing it as "an accurate way to protect children from prostitution and free sex". He also said "This is for their own good," and "Every woman has the right to virginity … we expect students not to commit negative acts."
And if you think this makes no logical sense, you're right. And not just because there is no such thing as a virginity test as, we have now written 39 separate times. The good news is even the local Islamic Council thinks it's a stupid idea which was already rejected in Sumatra and West Java. So, progress, maybe?
~~~
"It was a miracle," Elida Mendoza, 59, said through a translator about seeing the mother of God on the windshield of her truck. She and others tried to wash the windshield, but couldn't wipe the image of Mary away with mere cleaning products."
The Virgin Mary was sighted on a windshield in Mission, Texas (above), and a cross in Providence Rhode Island.
~~~
"There isn't one right time to start, and most sex educators will tell you that it's a lifelong process (because sexuality is just another part of life). The thing to realize is that if you have kids you're already teaching them about sexuality. So why not do it consciously?"
The wonderful Cory Silverberg in a group of columns about talking to your kids about sex education, porn and masturbation.
~~~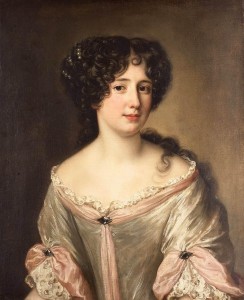 "On what basis, I thought, do we continue to assume that [Louis XIV mistress] Marie remained a virgin until her wedding night? Was it possible that young women of her time knew how to convincingly fake it?"
"The project of assuring 'evidence' one's virginity might have been a familiar one to many young women, whether or not they had previously had intercourse with a man. In seventeenth-century comedy, a familiar scene is a dialogue between a young bride-to-be and her governess, who advises her on how to act like a virgin on her wedding night."
From a very delightful and informative article called "On Faking Virginity"